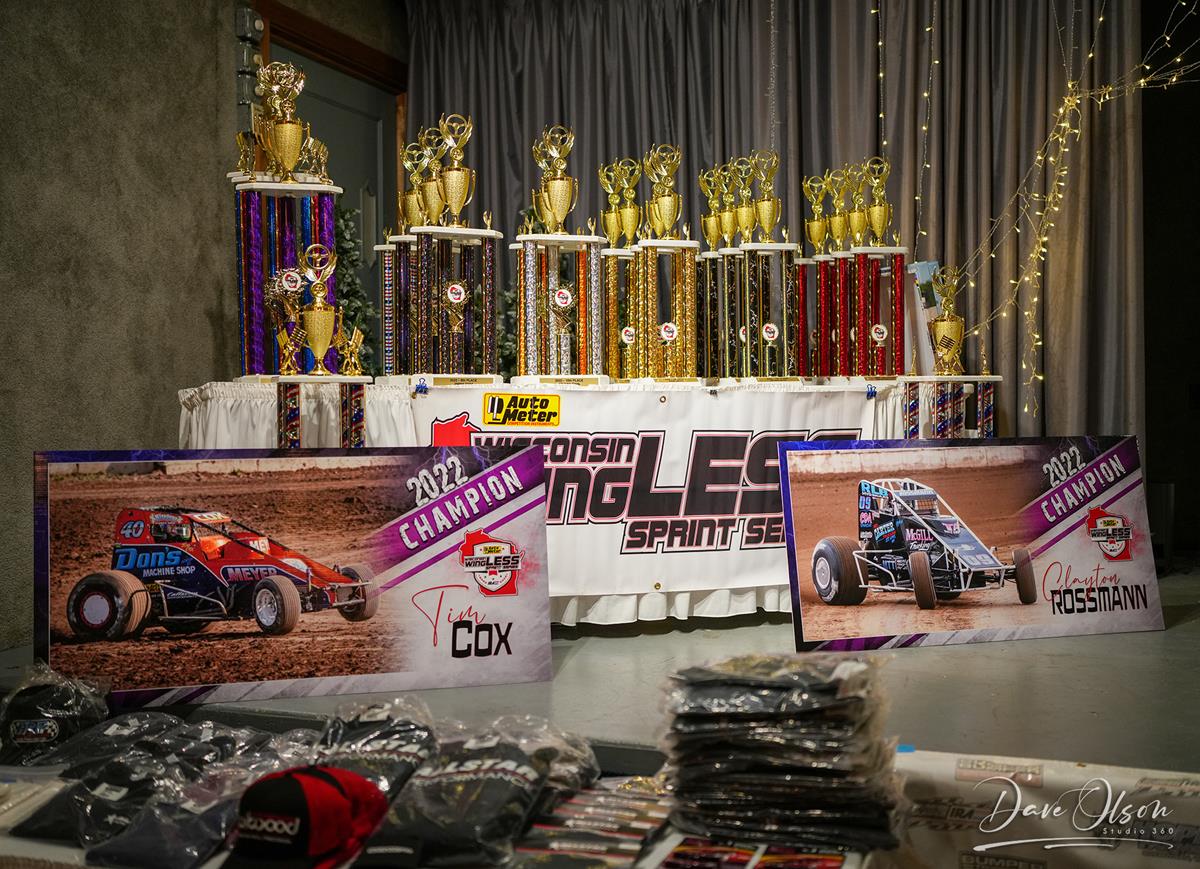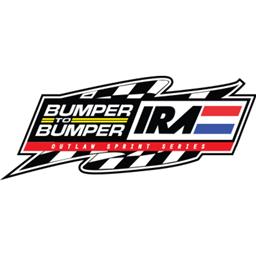 12/19/2022
IRA Interstate Racing Association
---
IRA Sprints Honor Respective Champions
Kenosha, WI 12/17 The Interstate Racing Association (IRA) hosted their 57th annual awards banquet Saturday night at the Parkway Chateau honoring both their Bumper To Bumper IRA Outlaw Sprint Series, and their AutoMeter Wisconsin wingLESS Sprint Series. Fourteen 410 winged, and twenty-two wingLESS teams were honored as they met series participation requirements, most had perfect attendance.
Jordan Goldesberry was honored as 410 Champ, while young Clayton Rossman, and veteran and past series champ Tim Cox were honored as wingLESS champions.
Mike Babicz, the long time Wilmot Raceway announcer, a long with Madeline Schultz (Chadi Madi), and Loren Kelly shared the emcee duties throughout the festive evening.
Photographer phenom Dave Olson of Studio 360 Photography designed the 410 (and Rookie) awards as he has done the past several years and provided additional championship and rookie awards for the wingLESS too. Olson also presented the Best Appearing 410 Award to Jeremy Schultz's #5j. Schultz's night got better too as won the annual Maxim Top 10 Giv-A-Way which is a drawing for a new Maxim chassis among Maxim teams who finished in the top 10 in series points.
Goldesberry who made the long tow north every weekend from his Springfield, IL home claimed two victories enroute to his first series title piloting the families Rockstar energy drink Maxim. Goldesberry took home over $11,000 in cash plus numerous contingency awards.
Seventeen year old Rossmann actually tied his mentor in veteran Cox for the title after dueling at the top of the standings all season. Ironically, while not team cars, the two teams do work out of the same shop which made their accomplishments nearly fairy tale.
Long time IRA President Steve Sinclair presented second generation official, Dakoda (Cody) Tennyson, with the prestigious Rick Schmidt Memorial IRA Member of the Year Award. Cody wears many hats for IRA, most notably running the tower (and a lot more) at each event.
Veteran videographer Jeff Fischer was honored with the IRA Dedication Award. Fischer who has become a full time videographer filming events all over the country began his career with IRA under the Grandstand Video label, and returned to the series three years ago when the series signed with FLO. Fischer has created a banquet video which traditionally has opened, in style, the past fifteen or so awards banquets.
The IRA Outlaws honor a pair of rookies, and this year it was Jake Neuman, who was a title contender most of the year, and winner of the season finale coming home a solid 5th in points who took the Sage Fruit / Hepfner Race Products Top Apple Rookie of the Year honors. Neuman added $2500 and a HRP wing combo to his night for this award. Neuman's night would only get better as he later won a new Maxim chassis in IRA's popular contingency drawing. Young Tyler Tischendorf who finished 9th in points, just edging fellow rookie Austin Hartmann who came home 10th, captured IRA's Sage Fruit / HRP Apple Cup Rookie of the Year Award earning an additional $1250 plus an HRP nose wing.
Eric Wilke took the wingLESS Rookie of the Year honors, while Seth Johnson was named the Most Improved wingLESS Driver, and Jeff Burba Photography presented Mike Sullivan with the JBP Best Appearing wingLESS car award.
All thirty-six teams present (34 were physically present, though all represented) received point fund checks and hardware, and ALL also shared in their respective division's contingency product drawing, and thanks to Alan Hafford for adding to to the wingLESS portion from additional proceeds from the Bill Grogan Memorial event.
Congratulations to IRA Lightning Sprint Champion Mike Neau also.
Watch for the soon to be released schedules for all 3 IRA divisions as the finishing touches are being finalized, with the 410's kicking off April 7-8 at 34 Raceway, the wingLESS April 29th at the Plymouth Dirt Track, and the Lightning May 13th at Wilmot Raceway.
Top 10 in Bumper To Bumper IRA Outlaw Sprint Series points..... 1. Jordan Goldesberry 2. Danny Schlafer 3. Jake Blackhurst 4. Scotty Neitzel 5. Jake Neuman 6. Russ Borland 7. Kyle Schuett 8. Jeremy Schultz 9. Tyler Tischendorf 10. Austin Hartmann
Top 10 in AutoMeter WI wingLESS points.... 1. Clayton Rossman & Tim Cox 3. Ryan Marshall 4. Ryan Zielski 5. Rusty Egan 6. Alan Hafford 7. Chris Klemko 8. Jimmy Sivia 9. Nathan Crane 10. Johnny Fahl
Thanks to: Bumper To Bumper Auto Parts & Service Centers, Hoosier Tire, Osborn & Son Trucking, Auto Meter, Sage Fruit, TW Metals, Cummins Onan, Hopf Farms, Kunes RV, Carriage Auto Body, MyRacePass, A-Main Apparel, Behling Racing Equipment, and FloSportsTV
---
Article Credit: Steve Sinclair
Submitted By: Dakoda Tennyson
Article Media
Back to News