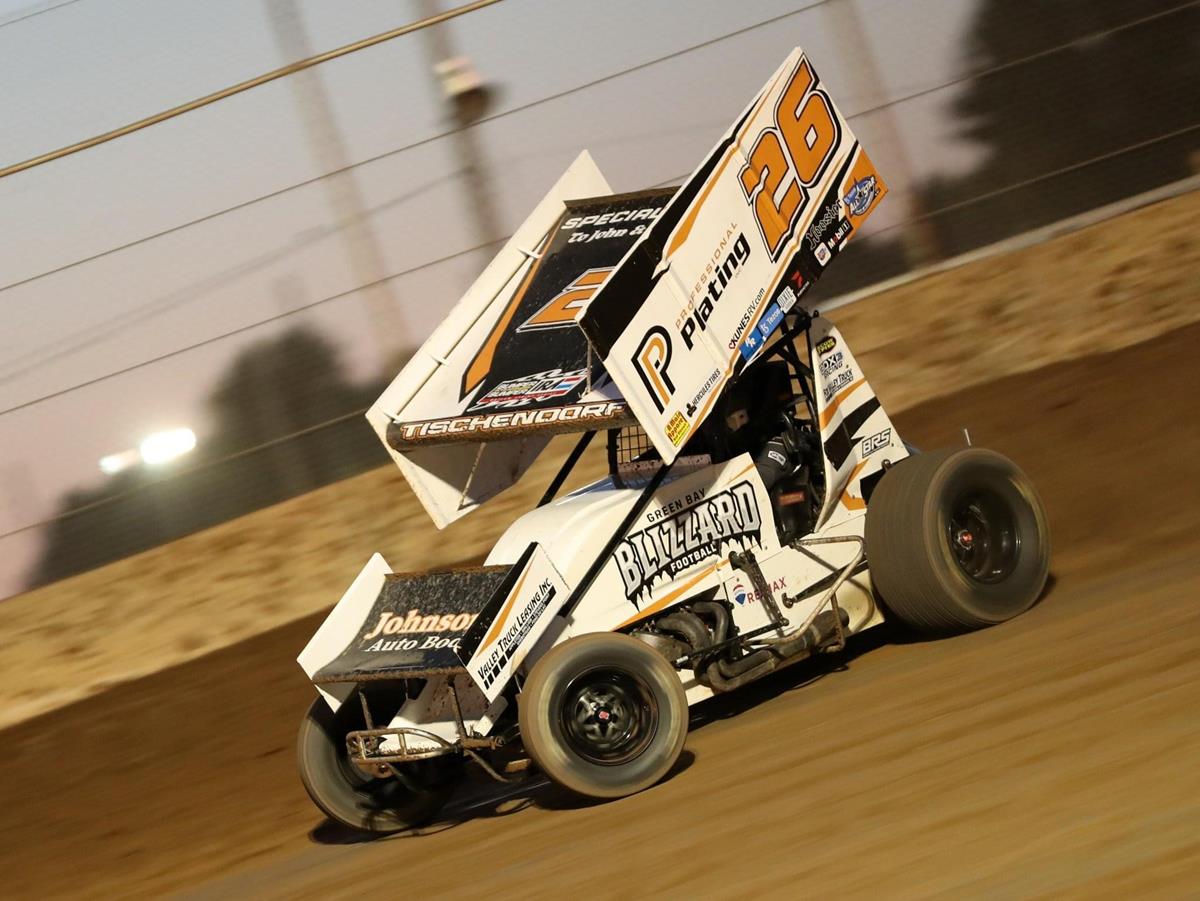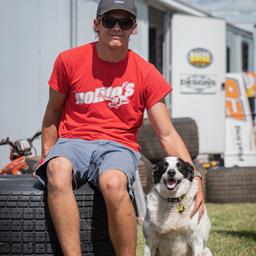 8/3/2022
Tyler Tischendorf
---
Tyler Tischendorf Logs First Heat Win, Top 10 with IRA at Plymouth
When the Tischendorf family moved to 410 Sprint Car racing in 2022, they were expecting this season to be simply a learning year to prepare and gain knowledge for 2023. While that has been and still is the case, they have found consistent speed with rookie driver Tyler Tischendorf and their Green Bay Blizzard #26 Triple X Chassis that they weren't expecting to gain this early in their IRA Sprints career.
"This night came a lot sooner than I pictured it." Tyler Tischendorf said after his best ever performance behind the wheel of a 410 sprint car. "My whole crew has more confidence in me than I do, and I guess I proved them right on Saturday."
The night began with Tischendorf putting down a lap good enough for 8th quick in IRA Qualifying. Time trials are immensely important in IRA competition, as they set up drivers for a chance at one of two dashes that set the Top 10 starting spots in the night's features as long as you transfer out of your heat race.
However, "TNT" decided to do more than just simply transfer.
Starting 2nd behind series veteran Russell Borland, the Waupaca, WI native nailed the start and ripped around the outside of Borland to take the lead down the backstretch on lap one, then once again nailing the cushion in turns 3 and 4 to solidify himself in the top spot ahead of Borland, 2x series Champion Scotty Neitzel, eventual feature winner Kyle Schuett, and National Midget Champion Jake Neuman. For the remaining 7 laps, Tischendorf was never challenged from behind, and won his first career IRA Heat race and took his race win of any kind in 410 competition in commanding fashion. The win also locked the rookie driver into his first career Dash Redraw, done on the front stretch in front of a capacity crowd at the Sheboygan County Fairground and live on FloRacing. Tischendorf was joined in the redraw by 2021 IRA Rookie of the Year and close friend Kyle Schuett, and the two drivers were both set to have career best outings in IRA action.
"Being able to pick up my first Heat win in a 410 and go up to the dash draw with one of my best friends is something I'll never forget." Tischendorf said about the night's events. "To be in front of a huge crowd like that at a track I've spent so much time at in a 360 was just amazing."
The young star drew the 2nd starting spot in Dash #1, right alongside Schuett. In the 4 lap sprint, Schuett jumped out to the lead but Tischendorf ran a strong second, with a sizeable gap back to former Wilmot 410 Sprint Car Track Champion Todd Daun, former IRA Champion Jeremy Schultz and series veteran Jereme Schroeder.
The A Feature got off to a nearly unbelievable start for the Professional Plating #26. Starting 3rd, Tischendorf rolled the bottom to perfection on the opening lap, pulling even with and eventually overtaking Neitzel for 2nd on the opening circuit. On lap 2, the rookie took a shot at Schuett for the lead into turn 1, but the Philo, IL native pulled ahead on the cushion. Now being hounded for 2nd by Neitzel, Tischendorf made a decisive move to the top side of the raceway, solidifying himself in the runner-up spot on lap 3.
As Schuett began to encounter traffic on lap 4, Tischendorf began to close the gap to the leader, pulling Neitzel and 4th place Jordan Goldesberry with him. However, his hunt for the lead would be brought to a halt by a red flag on lap 6 for Jake Blackhurst's #39 machine going over in turn 2.
"I kept expecting to see someone blow by me in those first few laps." Tischendorf admitted after the race. "I had no idea that I had probably a 5-7 car length gap back to Scotty [Neitzel]. I was just trying to be smooth and patient in order to catch Kyle if I could. Under yellow, my tires sealed over a bit and I couldn't get going like I wanted to on the restart."
As the green flag came back out, Tischendorf moved straight to the top side, opening the bottom up for Neitzel and the veteran took full advantage, ripping by the #26 in turn 4. Neitzel then came back to the top side as Tischendorf now had to deal with Goldesberry and a hard charging Danny Schlafer. Over the final 20 laps, the rookie contested fierce battles with the likes of Goldesberry, Blake Nimee, Jeremy Schultz and Jake Neuman to eventually come home in 9th place. Not the initial result the young driver was hoping for, but a career best IRA finish nonetheless.
"I think we had a really good shot at at least a Top 5 if the feature had gone green to checkered." Tischendorf said about the A Feature. "It was disappointing a little to fall back like I did, but I learned so much racing with those top guys like Blake [Nimee] and Jake [Neuman]. To actually be able to come back at them a bit was really fun and shows how good this car is right now. I can't thank everyone who helps out on this deal enough, and we're hoping to carry this momentum to Wilmot in a couple weeks!"
The IRA will enter their annual summer break for the Knoxville Nationals, and returns on August 20th and 21st at Wilmot for the Roger Iles Tribute at the Kenosha County Fair, and Sunday for Corn Fest at Angell Park Speedway. Tischendorf had one of his three career best runs [12th] earlier this season at Angell Park at the Norm Nelson Classic. Tickets for Wilmot are available online through My Race Pass as well as at the track on Raceday, and Angell Park tickets are available in advance through the Ticket Hoss app. Both events will be broadcast live on the FloRacing streaming service.
FULL RESULTS: Plymouth Dirt Track with IRA Sprints on 7/30/22
Qualifying-8th out of 22 cars
Heat-S/2nd F/1st
Feature-S/3rd F/9th
UP NEXT: 8/20/22 with IRA Sprints at Wilmot Raceway, Roger Iles Tribute at the Kenosha County Fair
SEASON STATS:
Events-14
Features Made-10
Top 15's-5
Top 10's-1
Heat Wins-1
Dash Appearances-1
Average Finish-16.22
Average Start-15.9
POINTS STANDINGS:
1st Danny Schlafer-1853
//
10th Hunter Custer-1395 (-458)
11th Tyler Tischendorf-1394 (-459)
12th Kris Spitz-1282 (-571)
You can follow along with Tyler's 2022 season on his Twitter, @tylertisch26, on Facebook at Tischendorf Racing, and Box3 Racing PR on Facebook at Box3 Media and on Twitter @box3_racing.
Tischendorf Racing would like to thank all of their 2022 partners for helping them hit the track with the IRA this year!
Green Bay Blizzard
Professional Plating
John & Michelle Stenz
Johnson's Auto Body
Golke Bros Steel Roofing LLC
Happy Camper RV and Boat Storage
Valley Truck Leasing Inc
Fox Valley Truck
Box3 Media
REMAX
Cow Pies
Trailside Bar and Grill
My Race Pass
HHH Race Parts
Scott King Designs
Buege High Performance
Berryman Racing Shocks/Factory Kahne
Triple X Racing Components
Sprint Car T Shirt Club
Photo Credit: Ricky Bassman
---
Article Credit: Loren Kelly-Box3 Media
Submitted By: Loren Kelly
Back to News